Table of Contents
RF Connectors
There are a range of RF connectors that can be used in HAB both on the payload and on the radio receiver. This range has become even more widespread with the increased use of TV Dongle SDR receivers.
Most connectors have both Male and Female versions using the same name however there are a few exceptions to this rule.
---
SMA
This is probably the most common Connector used in HAB. They are common on a number of smaller radios as well as the HabAmp. They are also a good size for use on PCB making them a good choice if you want to have a detachable antenna. SMA Connectors are good for signals from DC to over 10GHz. Attaching to a coax cable generally requires a crimp connector and suitable crimp tool.
---
RP-SMA
Don't confuse these with SMA, They are both the same size however for RP (Reverse Polarity SMA) the pin is moved from the plug to the socket. These are commonly used with Wifi Access Points/Routers. Using an antenna with an RP-SMA connector on your payload is likely to lead to complaints of a poor signal - You've been warned!
---
BNC
Good for Higher frequencies and often used on medium sized radios. This has a Bayonet style method of attaching rather than a screw thread. Note that as well as 50R BNC connectors for radio there are also 75R connectors which are commonly used on professional video equipment.
---
N-Type
Larger connector good for High Frequencies. Often found on larger Amateur Radio Antennas.
---
MCX
These are a small connector often found on TV Dongle SDR receivers. To make use of these you will generally need to buy (or make) an adapter or pigtail.
---
Belling Lee
These are a common TV connectors and are the larger version often found on the TV Dongle SDR receivers. These aren't ideal connectors and where possible it's recommended to swap them to a SMA.
---
PL259
These are common on some Radio receivers and antennas and should be avoided whenever possible. Whilst they are sometimes called a UHF plug they are only suitable for frequencies below 100MHz. Whilst they will work on higher frequencies they should not be used for anything critical. They can also be described as a Banana plug with shielding!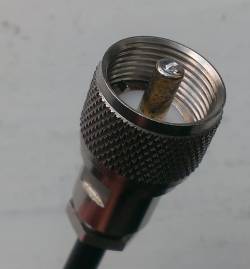 ---
SO239
This is the Socket version of the PL259. Again should be avoided when possible
---
Other Less Common connectors
TNC - Similar to the BNC but with a screw thread instead of a bayonet.

F - Similar to the TNC/SMA generally used for satellite/ cable TV receivers
guides/rf_connectors.txt · Last modified: 2016/03/23 21:21 by mfa298
---