Adafruit Ultimate GPS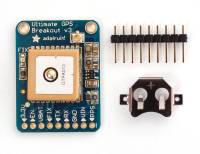 An attractive looking unit with some great features however current versions of the module have an altitude limit of 27km. We understand from Adafruit newer versions are on order that have a limit of 40km however these currently aren't on sale. A prototype of this new unit was successfully tested to 38.5km by UKHAS where it worked with no issues. Nothing needs to be set to engage the high altitude mode.
PLEASE BE AWARE ANY MODULES YOU PURCHASE FROM ADAFRUIT AT THIS TIME WILL HAVE A LIMIT OF 27KM
To test if your module has the 40km firmware on it issue the command $PMTK604*6D (or $PMTK605*31) to the module i.e :
mySerial.println("$PMTK604*6D");
The module will respond with its firmware :
$PMTK705,AXN_2.10_3339_2012072601,5223,PA6H,1.0*6A
$PMTK705,AXN_2.10_3339_2012060701,5153,,1.0*03

5223 = 40km firmware
5153 = 27km firmware

Weight : 7g
External link : Adafruit Ultimate GPS Breakout
Possible interresting update from Adafruit on August 2014: As of 8/10/2014 we are shipping with firmware v. 5632 which improves high-altitude calculations and stability. It is equivalent in all other functionality and is a drop-in replacement. […] Maximum Altitude for PA6H: according to the factory, this module will perform up to 40Km but it is only known-tested up to 32,000 Meters. […] We have received reports that it works up to ~32Km altitude (the GPS theoretically does not have a limit until 40Km). […] We've received reports from customers that have tested this version of the Ultimate GPS module in a high-altitude balloon, and it kept fix up to ~32km! There is a (theoretical, untested) firmware limit of 40Km. However, we provide no guarantee that it will work in all HAB's.
guides/adafruitugps.txt · Last modified: 2014/08/17 09:47 by uggy
---