general:ukhasconference2012
Table of Contents
UKHAS 2012 Conference
The UKHAS Conference was held at Kings College London (London Bridge Campus), Great Maze Pond,London, SE1 1UL in New Hunts House building on 22/09/12.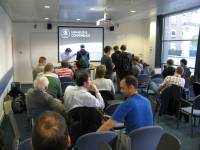 Timetable
1030 Conference begins

1300 Lunch

1400 General Discussion

1500 Forum/Workshop (various tables and stations)

Beginners Arduino - James Coxon

Comms station demo - Mark

How to setup a receiving station

Bio-prospecting - Oliver

1730 Conclusion - James Coxon

1800 Conference finishes
Workshops/Forum
Beginners Arduino

For complete beginners - quick overview of how to get started with an arduino, how to upload sketches, make LEDs blink and serial communications - if we have time we'll go over interfacing a GPS module and a radio.

Discussion on PCB design & SMD Soldering

How to setup a receiving station

Bioprospecting part 2

Comms station demo
Badge Board
The UKHAS Badgeboard was given to attendees of the 2012 UKHAS Conference in London on the 20th of September 2012. For full technical details on the board see this article.
general/ukhasconference2012.txt · Last modified: 2012/09/30 20:33 by upu
---